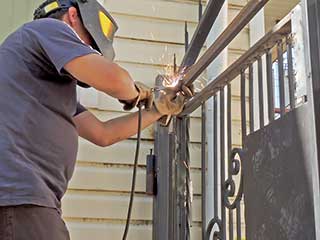 Your automatic driveway gate is how you welcome visitors to your home or to your business. It's the first thing people will see when they arrive, which means it's the perfect way to create a great first impression. We believe that an automatic security system shouldn't just function perfectly; it should also suit the aesthetic of your property. That's why our team will work closely with you to help you decide on the perfect new gate for your home.
Investing In a New Gate
There are plenty of good reasons to have a new automatic gate system installed. This is the first line of security against intruders, and it needs to be strong and reliable. Therefore, it's important that you choose a gate that will give your property the protection it needs. Secondly, gates need to work reliably no matter the weather or time of day. Because their automation relies on the opener, you need to make sure you get a solid product from a well-known brand. Our company only work with brands that we know can deliver this high level of reliability, such as FAAC, Doorking and Elite. We only recommend manufacturers that we trust, and after a decade in this business, we know which ones to turn to.
Choosing The Right Type For You
Not all automatic gates work in the same way, and it's important to choose the right type for your specific needs, to ensure that it serves you well and doesn't create problems you weren't expecting. Our technicians will carefully assess your property before making a recommendation, taking in such considerations as available space and surrounding objects. A swing gate might be perfect in some cases, but when space is restricted we might recommend a sliding gate instead - in either case, we'll work with you to find the right choice for your needs.
A Wide Range Of Materials
We know how important it is that your automatic system looks good as well as functions perfectly. We offer a comprehensive selection of security and driveway gate panel and frame materials to choose from, including everything from wrought iron to wood and steel. Each material presents different benefits and potential maintenance requirements, so it's important that you understand those before making a decision. Whatever you have in mind, we'll make sure you get a gate that suits your home down to the ground.
Let Us Know What You Need
If you're looking for professional advice and expert installation services from the best local experts around, we're the company for you. Our team here at Gate Repair Staten Island is ready and waiting to help - get in touch with us today.
Give our team a call if you need help with:

Gate Hinge Repair

Aiphone Gate Intercoms

Rollup Gates

Gate Opener Keypads