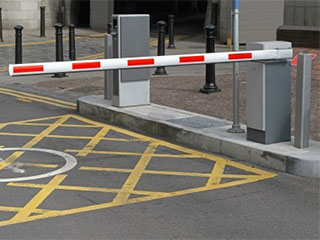 One of your business's most important pieces of machinery is the automatic gate system. It's this mechanism that enables things like deliveries to be made, shipments to leave on time, and employees and customers to arrive safely and securely. Any problems with this system can cause a lot of difficulties; a malfunctioning gate system is both unsafe and insecure, and needs to be repaired as quickly as possible. When you find yourself dealing with such issues, our professionals are the ones to call.
Intercom Systems and Their Problems
When your automatic gate's phone entry system stops working, it can be very annoying and incredibly disruptive to employee productivity. Not to mention, it's a bad look for any business, and isn't something you want potential clients or even regular customers to have to circumvent. These systems can suffer from numerous malfunctions, such as circuit board glitches and torn wiring. Our team specializes in troubleshooting intercom systems and solving any issue that may affect them. This includes complete replacement, if the situation calls for it.
Each Type Can Have Its Own Problems
Not all these automatic systems are built the same, and the different mechanisms can require different approaches to repair, as they work in dissimilar ways. Sliding gates may develop problems with their tracks, while swing gates can suffer from worn or broken hinge joints. Whether welding repairs are needed or some wheels require replacement, our team has the skills and training to address problems with any type of system, from any manufacturer.
Wood And Metal Gate Repairs
Whether your gate is made from wrought iron, aluminum, steel or wood, you can count on our experts to repair any issue that pops up. Because different materials are susceptible to different problems, different gate owners may encounter different issues, from rusted iron to warped wood. The repair approach will also differ, as some parts must be replaced or filled with special material, as is often the case with wooden gates. Ironworks, on the other hand, can be repaired via welding.
Need Help? Our Gate Repair Experts Are Nearby
There's no need to wait - our team offers same-day emergency services, and is available 7 days a week. Gate Repair Staten Island is your go-to company for fast, effective solutions to any type of problem you may encounter.