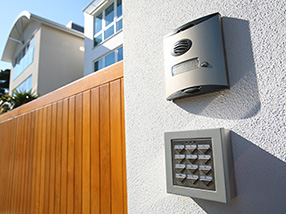 With a reliably working driveway gate phone entry system, you have complete control over who can enter and leave your property from the safety and convenience of your house or your office. There's not much better security than an automatic gate with an intercom attached, especially in combination with other monitoring systems such as cameras.
What An Intercom Can Do
As long as you're at home and are able to answer the call, an intercom system will let you talk to anyone who is trying to come in through the gate and remotely open it for them. If your system has a picturephone feature, you can also get visual confirmation that the person you're letting in is who they say they are. Some more modern models can be linked to your smartphone, allowing you to talk to people waiting outside your gate and admit or refuse them even if you aren't currently at home.
Wired Or Wireless
Until recently, intercom systems needed a physical wire to connect the gate with the control unit inside your house or business. Simpler and more inexpensive systems still use wired connections; in addition to being cheaper, wired phone entry systems are helpful if your building is in a radio dead zone or if your gate is too far from the building. On the other hand, wireless systems are easier to install, less vulnerable to damage, less obstructive, as they don't need to have wires stretched all over the place, and can often be equipped with smart systems that allow for extra features like smartphone communication and easy camera compatibility.
Intercom Repair And Installation
These devices tend to be very reliable machines, but breakdowns are still possible. If your gate intercom isn't properly protected, it can be jammed by dust or damaged by moisture getting inside. If you use a wired system, the cable connecting the system to your house can be stripped or torn. Smart control systems can also suffer from power supply and software issues. Usually, an intercom that isn't working properly can be repaired, reprogrammed, or have its wire replaced, but in the case of extreme damage you may need a new system installed and hooked up to the gate opener.
Our Team Is Available
Provide fixes for hardware and software issues, as well as full replacement and installation services, is what our technicians specialize in. Both home and business owners throughout Staten Island can count on our same day emergency repair services and our high quality products. Need help? Give us a call today.