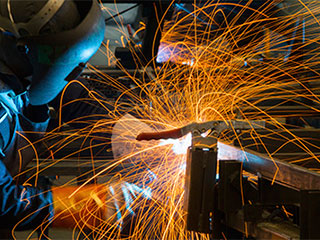 Walkway or driveway, home or business, if your automatic gate system is giving you some trouble and refuses to open or close properly, you'll need to have a professional check and repair it. You can always count on our team to provide an affordable and long lasting solution to any type of issue your security system may encounter.
Gates Are Important
An automatic gate can be critical to managing who enters and leaves your property. The convenience and security afforded by a remote controlled electric gate can save you time and effort, as well as the stress of worrying about reduced security. Like any complex mechanical system, this mechanism requires maintenance from time to time, and can stop working altogether if something goes wrong with any of its different hardware or electrical parts.
When Things Go Wrong
Rusting or warping of the gates tracks or hinges, electromechanical failures in the opener, or a connection issue with the remote controls or the intercom can make your system worse than useless. It can render it downright obstructive. A system that won't open, or one that won't shut, can throw a real wrench in the works as far as your daily schedule is concerned.
Count On Us For Professional Repairs
Fortunately, there's no gate-related issue our experienced technicians can't resolve. Whether the situation calls for hinge welding, rust-removal, electrical rewiring, or anything else, our service team has seen it all. In the event that you need a part replaced, our company maintains a large stock of spare parts from a variety of trusted manufacturers, and can have one installed with a minimum of time and expense.
Professional Installation Services
In addition to repairing damaged driveway gate systems, our team can also replace, upgrade, or even build one for you. Our experts will work with you to make sure that the power supply, controls, structure material and noise level, as well as other features, are a good fit for your property and budget. If you're interested in adding an intercom system, security cameras, or other new feature to your existing system, our team will be happy to help you with that as well.
Give Us a Call
Looking for gate repair technicians in or near Staten Island? Our services are available anywhere within the city limits and its surrounding areas. Don't hesitate to give us a call to benefit from our same day emergency service policy.
Looking for more? We also offer:

Solid Sliding Gates

Doorking Gate Intercoms

FAAC Gate Opener

Driveway Gate Repair