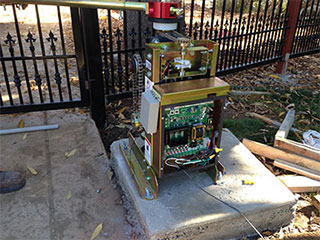 The gate opener is, in many ways, the most important part of the entire system, and problems with it can prove very inconvenient and potentially even dangerous. Electric openers that suffer from circuit board malfunctions, or those whose drive system wears out or break, need to be repaired as quickly as possible, and our experienced team provides the fast, effective solutions you need.
Solving Malfunctioning Opener Problems
There's a wide range of problems that automatic gates can suffer from. These range from physical problems such as obstructed or dented tracks that prevent it from moving smoothly, to internal issues such as improperly set limit switches. Electrical faults can also occur, with circuitry developing glitches that prevent the gate from working smoothly. Our team has more than a decade of experience with all types of opener units, so our technicians can quickly identify and resolve any issue, in very little time.
Installing a New Gate Opener
If you're looking to install a new gate opener unit, either as an upgrade for your existing system or as part of a new gate, our team is ready to help. Our technicians will support you through the whole process of choosing a new model, from identifying your requirements and outlining your different options through to supplying and installing the new opener. Our company works with top brand names such as Eagle, Elite and Doorking, so our products are all of the highest quality available today.
Schedule Your Service Today
Gate Repair Staten Island is ready to provide a solution to any problem you may be experiencing. If your electric opener isn't working, or if you're looking to upgrade to a more modern model, don't hesitate to get in touch with us; our team is available 7 days a week, with appointments to suit you.
Count on our team for:

Residential Gate Repair

All-O-Matic Opener

Hinge Welding Repair

Linear Gate Intercoms